Welding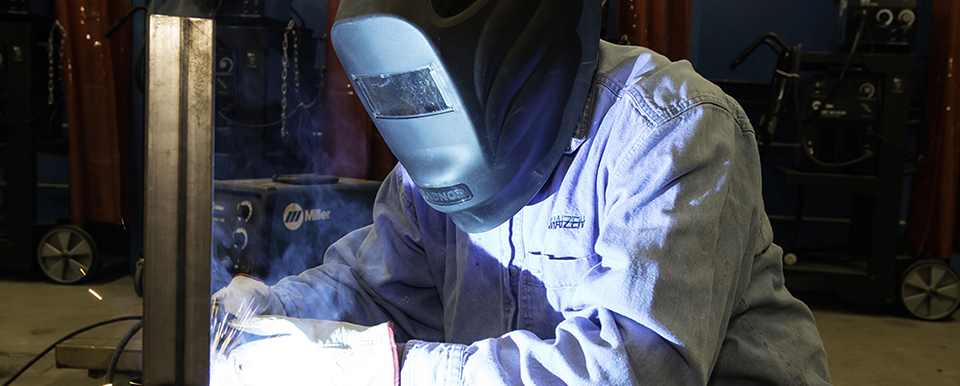 Welding is the most common way of permanently joining metal parts. In this process, heat is applied to metal pieces, melting and fusing them to form a permanent bond. Because of its strength, welding is used in shipbuilding, automobile manufacturing and repair, aerospace applications, and thousands of other manufacturing activities. Welding also is used to join beams in the construction of buildings, bridges, and other structures and to join pipes in pipelines, power plants, and refineries.
Additional Information
General Welding Overview
Welding Technology
is designed to offer students the necessary skills for entry-level positions in the welding industry. There is an increasing demand for skilled welders in the fields of MIG (Metal Inert Gas), TIG (Tungsten Inert Gas), and Pipe welding.
Certificate & Continuing Education (CEU) Offered
Southwest
Program Length: 14 weeks
Welding Types Covered:
SMAW (Shielded Metal Arc Welding)
FCAW (Flux-Cored Arc Welding)
GMAW (Gas Metal Arc Welding) (MIG)
GTAW (Gas Tungsten Arc Welding) (TIG)
OAW (Oxyacetylene Welding)
OAC (Oxyacetylene Cutting)
OFC (Oxyfuel Gas Cutting)
PAC (Plasma Arc Cutting)
CAC-A (Air Carbon Arc Cutting)
Welding Inspection Training Overview
Training Program Competencies:
Trainees will identify the requirements of welding inspection and certification
Trainees will identify and demonstrate safe practices for welding inspectors
Trainees will identify and describe common metal joining and cutting processes
Trainees will interpret weld joint geometry and welding symbols
Trainees will identify and interpret documents governing welding inspection and qualification
Trainees will identify metal properties and destructive testing
Trainees will utilize metric practice for welding inspection
Trainees will identify welding metallurgy for the welding inspector
Trainees will identify weld and base metal discontinues and their root causes
Trainees will interpret visual inspection and other NDE methods and symbols
Trainees will identify and use welding inspection tools and gages
Trainees will identify an use welding codes
Resources
For more information or View current schedule
Acting Director Alberto Urbina
Material Science COE
6960 Rustic, Houston, TX 77087